Introducing our high-quality folding solar panel, designed for maximum conversion efficiency and versatile use in a variety of settings. With its IP65 waterproof rating, sturdy handle and hanging hole design, and durable tempered glass construction, this solar panel is built to last and withstand the elements.
Equipped with cutting-edge PERC technology, this solar panel delivers outstanding performance and efficiency, even in low light conditions. Its intelligent voltage regulation system ensures safe and stable charging for multiple devices, making it a reliable and convenient power source for all your outdoor adventures.
High conversion efficiency
IP65 waterproof rating
Sturdy handle and hanging hole design
Tempered glass construction
PERC technology for optimal performance in low light conditions
Intelligent voltage regulation for safe and stable charging of multiple devices
Versatile application for various outdoor activities
Whether you're camping, hiking, or simply enjoying the great outdoors, this folding solar panel is the perfect companion for all your power needs. With its high-quality construction and advanced technology, you can enjoy reliable, sustainable energy wherever you go.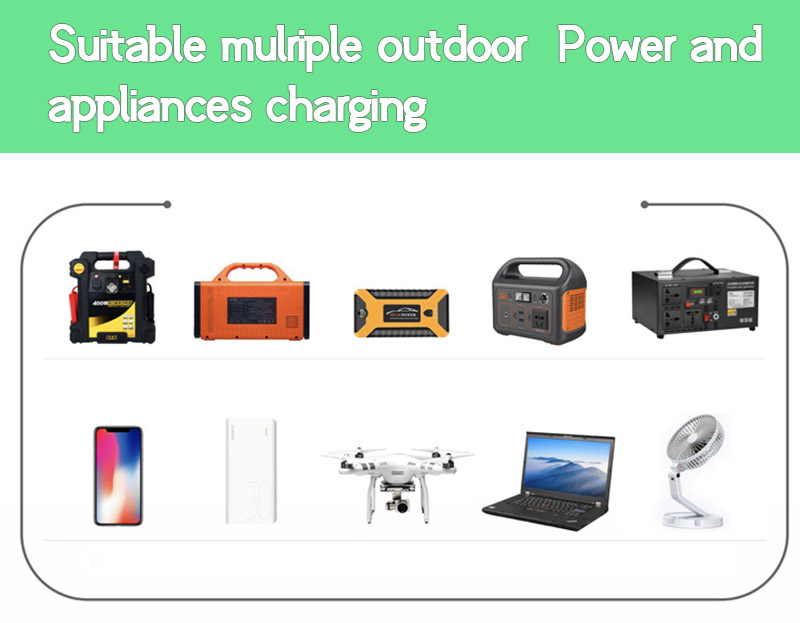 Quarke 60W 6 Folds
Peak power
60W(±5%)
USB Output
Double USB 5V1.7A
DC Output
18.0V3.3A
Weight
2.5Kg
Panel Efficiency
22.60%
Configuration
High efficiency+PET+EVA+Waterpoof
product size
Folded size:350*260*60mm
Expand size: 1080*685*5mm
Color:
black/camouflage(Optional)
Accessories
DC cable+charge cable+mountaineering buckle+8-piece DC connector
Package size
270*370*55mm
Packing weight
12PCS/31Kg
Packing size
360*300*400mm
product lifetime
5years
Scope of use
Mobile phone、Power bank、laptop、Storage battery、5V12VElectronic equipment
Quarke Foldable Solar Panels