This is an upgraded multi functional inverter/charger, combining functions of inverter, solar charger and battery charger to offer uninterruptible power support in portable size. Support Bluetooth for mobile monitoring, and its detachable LCD display module offers user-configurable and easy-accessible button operation such as battery charging current, AC/ solar charger priority, and acceptable input voltage based on different applications.
Support Bluetooth for mobile monitoring (Android App available).
Detachable LCD control module with multiple communications
High efficiency pure sine wave inverter(PF=1); Wide PV input range (120V dc -500V dc) 80A MPPT SCC; Intelligent 3stage 60A AC battery charger.
Surges to 2X continuous power for 5 seconds for motor loads.
Programmable Utility and Solar output usage timer and prioritization.
Support operation without battery, supply power from Grid or PV if battery not available.
Auto restart while AC is recovering.
Field serviceable with replacement boards and spare parts.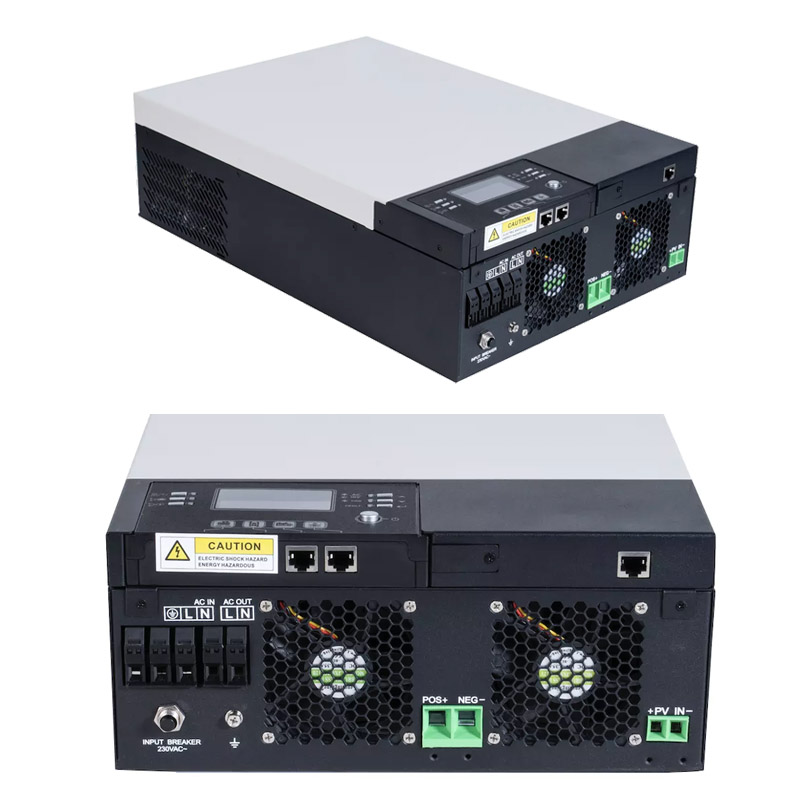 VMIII Series(Remote Control with Wifi & Bluetooth)
Model
QK3222VMIII
QK3522VMIII
QK5032VMIII
QK5532VMIII
RATED POWER
3200VA/3200W
3500VA/3500W
5000VA/5000W
5500VA/5500W
input
Voltage
230VAC
Selectable Voltage Range
170-280VAC (for personal computers)
90-280VAC (for home appliances)
Frequency Range
50Hz/60Hz (Autos on sing)
output
AC Voltage Regulation (Batt.mode)
220/230/240V
Surge Power (5 seconds)
6000VA
7000VA
10000VA
11000VA
Efficiency (peak)
90%-93%
Transfer Time
10ms(for personal computers); 20ms (for home appliances)
Waveform
pure sine wave
Battery
Battery Voltage
24VDC
24VDC
24VDC
24VDC
Floating Charge Voltage
27VDC
27VDC
54VDC
54VDC
Overcharge Protection
33VDC
33VDC
63VDC
63VDC
SOLAR CHARGER&AC CHARGER
Solar Charger Type
MPPT
Max.PV Array Open Circuit Voltage
500VDC
500VDC
500VDC
500VDC
MPP Range@operatig
120-450VDC
120-450VDC
120-450VDC
120-450VDC
Max.PV Array Power
4000W
5000W
5000W
6000W
Max.Solar Charge Current
80A
100A
80A
100A
Max.AC Charge Current
60A
60A
60A
60A
Max charge Current
80A
80A
80A
80A
Physical
Dimension, D*W*H(mm)
115 x 300x 400
Net Weight (kgs)
9KG
9KG
10KG
10KG
Communication Interface
USB/RS232/RS485/Bluetooth/Dry-contact
ENVIRONMENT
Humidity
5%-95% relative humidity ( non-condensing)
Operating Temperature
-10℃ -50℃
Storage Temperature
-15℃ -60℃