Today, we are intrinsically connected to a variety of devices without which we will find it difficult to continue our normal lives. If a power outage suddenly occurs at your home, you can't put your life on hold. That's when portable power stations come in handy. They are also the perfect companion if you want to go camping without worries.
We know it's easy to get confused about which portable power station to buy, since there are so many options. So we looked at the best portable power stations available and judged them based on their battery capacity, maximum power output, power outlets, available power sources, warranty, and other factors.
We spent a lot of time doing our research so that you can have all the information you need. We have structured our article accordingly. You'll find detailed reviews of each power station, and a full buying best portable power stations guide as you scroll through the article.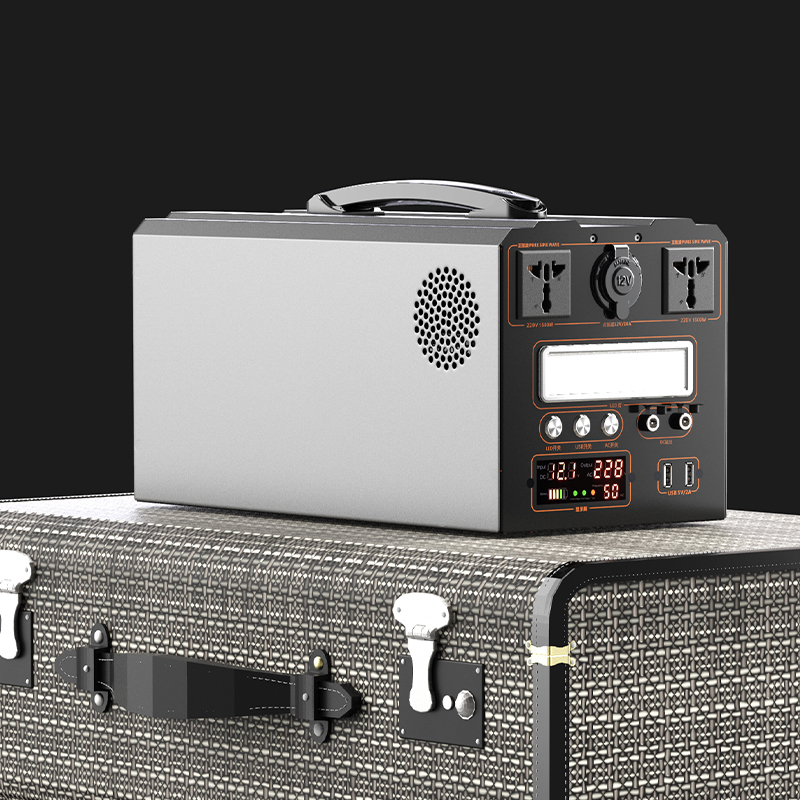 The top 5 best portable power stations in 2023
1、ECOFLOW River Portable Power Station
Advanced enough to meet your electrical needs, this ECOFLOW River model is equipped with an impressive number of charging ports and the highest total and alternate electrical power. With an intelligent and proprietary thermal management system that will ensure your safety, there is much to celebrate, such as the extended battery life of the unit, or the fact that you can use it for outdoor camping, indoor activities, or even commercial purposes.
The ultra-minimalist design makes this model a true work of art, and it's equipped with the latest battery technology. As soon as you see this product, you will recognize its high-quality construction.
The EcoFlow River Portable Powerhouse has up to nine power outlets to keep your devices charged at all times. With its 300-watt power output, you can also use it on CPAP machines.
The generator can store up to 100,000 mAh of capacity, providing optimal performance. It's still very portable, though, which means you can carry it in your bag. The nine-outlet system makes it perfect for use at home or outdoors when you need to charge multiple devices simultaneously.
Features
Capacity:370Wh / 100 000mAh
Ports:(2) 110V AC (60 Hz, 300W continuous, 600W peak), (2) 12W 5V USB, (2) 28W 12V USB fast charge, (2) 60W 20V USB-C fast charge, (1) 96W 12V car port
Power source:solar panels, 12V DC car charger, AC wall outlet
Weight:11 lbs
Warranty:2 years
More features:charges up to 9 devices simultaneously; battery management system
Pros
A thermal management system prevents overheating
An impressive power distribution system
Easily billable
Two-year warranty
Cons
2、Goal Zero Yeti 400 Lithium
If you want a great portable power plant that will get the job done, you can't go wrong with this product. With a rugged design, this is one of the best portable lithium power plants on the market.
However, the Yeti 400 has a sturdy construction, which allows it to stay with you for a long time. The outer shell of the product is sturdy, and it will be able to withstand any pressure you put on it when you carry it around using the carrying handle attached to it.
However, there is a downside to this durable design, and that is that the product is rather heavy. Weighing over 17 pounds, it is not easy to carry around. You can be sure that most airlines would not be comfortable allowing you to travel on the plane with the unit.
This model is perfect for camping if you have the space to carry it to the site. However, it shines best at home when you are in an emergency situation. Considered one of the most powerful power supplies on the market, it will provide you with all the power you need. The various connection options of this power supply allow you to handle it easily. In addition, you can also measure the time you have left on the device and charge it accordingly.
Features
Capacity:428Wh / 39 600mAh
Ports:(2) AC (300W continuous, 1200W peak), (3) USB 2.4A ports, (2) 12V ports
Power source:wall outlet, solar panel, DC car cigarette
Weight:16 lbs
Warranty:6 months
More features:easy-to-read battery level indicator, input/output meter, run time and recharge calculator
Pros
Powerful and efficient
Easy to charge
Comes with a battery level indicator
Includes a run time calculator
AC ports with huge peak power
Cons
Heavy
Pricey
Short warranty period
3、Jackery explorer 500 portable power generator
You will find that this device will greatly enhance the quality of your travels once you add it to your arsenal. It has a high power capacity, which allows it to give you access to power even when you are in dark places during your vacation.
You'll find that this product is very user-friendly, and that's one of the main reasons for its popularity. It comes with a host of different accessories that will help you use it properly.
The AC adapter can be used to power both devices that run on AC or DC power. Once the stored energy is depleted, you can recharge the device using even solar panels or carports.
This model is versatile, and its light weight makes it portable.
The easy-to-carry handle will allow you to take it anywhere you go. This model can provide up to 1000 watts of operating power. It can be fully charged in 5 hours. It also comes with a 2-year warranty.
Features:
Capacity:518Wh
Ports:(1) DC 13.3V, (2) USB-A (5V 2.4A each), (1) 110VAC (60Hz, 200W continuous, 400W peak)
Power source:wall outlet, solar panel, 12V DC car
Weight:12 lbs
Warranty:2 years
More features:LCD display with charge/discharge status and battery life
Pros
Easy to use
Can be used for both AC and DC devices
Easy-to-read LCD display for monitoring
Two-year warranty
Cons
4、SUAOKI PS5B portable power supply
Don't let the small size fool you, as this model can satisfy all your portable power plant requirements. This portable solar generator is very light and therefore can be carried from one place to another without any problem. It operates independently and silently.
You will find that it is easy to recharge this power generator once the power runs out. You can use an AC adapter, a car plug or even a solar panel to get the power plant up and running again. The maximum capacity is 400Wh, and you can use the machine both indoors and outdoors.
You can use the power station to charge your personal electronics, small appliances and home electronics. It is the perfect companion when you are in your recreational vehicle and traveling on vacation. The versatile 300W continuous power output will ensure that you don't miss your power supply.
This model is equipped with an LCD display and three buttons that will keep you informed about the machine's capacity. While the buttons serve as indicator lights, the display shows the battery consumption rate and the charge/discharge rate. You can use the buttons to change the power mode.
Features
Capacity:400Wh / 30 000mAh
Ports:(1) 110V AC (60 Hz, 300W continuous, 600W peak), (2) DC (12V, 600A peak and 12V, 3A), (1) 5V 3.5A USB, (1) 12V 120W cigarette lighter socket
Power source:wall outlet, solar panel, 12V/24V car DC
Weight:12.5 lbs
Warranty:2 years
More features:backlit LCD display; battery management system (BMS)
Pros
Comes with a battery indicator
Durable
Many ports
Two-year warranty
Cons
5、BLUETTI EB70
This power station of the brand BLUETTI is available in grey color and has an integrated flashlight. It is a light central model with its weight of 9.7 kilograms thanks to which you will transport it easily. It is also a compact model with dimensions of 32 cm in length, 21.6 cm in width and 22.1 cm in height.
It has a voltage of 230 volts (AC). For the recharge, you can count on a charge by wall socket or by solar energy. It has a capacity of 10 devices that can be connected at the same time, allowing a more efficient use. Its durability can go up to 10 years thanks to the 2500 charging cycles it offers. When you buy it, you have a 24 months warranty.
What is a portable power station?
You can think of a portable power supply as a generator. These stations are intended to store electrical energy so that you can use it when you are camping outdoors or when there is a shortage of electricity at home. However, it would be wrong to think that portable power stations are anything like generators.
There are some differences between the two that you should be aware of. While a generator runs on gasoline, the best portable power stations usually have a rechargeable battery that you can recharge in several ways. You must recharge it before you start using it, or it will not work properly. Also, a portable power supply and a generator create different noise levels.
Most generators tend to be very noisy and end up disturbing your peace and quiet. Having them with you when you travel can be annoying. On the other hand, the best portable power stations tend to make negligible noise. Even if you're charging multiple devices at once, you can count on portable power plants not to make a loud noise. Finally, because generators run on gasoline, they tend to produce fumes when they run.
However, portable power packs don't give off any fumes, making them the ideal power source anywhere and everywhere.
Having an extra source of power can get you out of tough situations. When you go hiking or camping, you may not have access to enough power to keep your phone alive. You can also use it indoors when you don't want to lug around cables.
Features to consider before buying a power station
Every day, new brands are launched in the market, bringing you advanced models of portable power plants. If this is your first purchase, it is normal to be overwhelmed by the number of options available. Even if you've purchased portable power plants before, you'll wonder which are the best portable power stations to choose.
Battery Capacity and Power Rating
The battery of your portable power plant is the most important feature you need to consider. The battery capacity and the type of battery used by the power supply will determine how efficiently it can charge all of your devices, as is the case with portable generators, where the wattage output is the main deciding factor. Before making your choice, you need to evaluate how often you will use the portable power plant and what its purpose is. When it comes to the type of battery, you should definitely opt for a Lithium-Ion battery. You will find that lithium-ion batteries can be easily recharged and are designed to store charge for long periods of time.
These batteries also have a long lifespan, which is why they are perfect for the best portable power stations. As far as capacity is concerned, it depends on individual preferences, as only you know what devices you plan to charge with the power supply. If you choose a higher-capacity portable power supply, you'll be able to charge multiple devices.
Rated and Maximum Output
The voltage or amount of watts your portable power plant can deliver is the main determinant of what the unit can handle. If it has a low output, you will only be able to use it for smaller devices. In addition, it will also limit your ability to charge multiple devices at the same time.
However, if you opt for a portable powerhouse with a higher output, you will be able to charge larger devices. In fact, you may be able to run devices such as lights or fans if the power of the portable power supply is high enough. However, you should not try to operate a large device with a lower-capacity power supply, or you may cause an accident. If you plan to use the power supply to charge a laptop, it should be able to deliver about 60 to 90 watts of power.
What can it do?
You need to keep in mind certain devices that you want to run when you buy a portable power pack. You need to check the compatibility of the power supply with the various appliances before making the investment. This is because the requirements of a smartphone and a laptop will be different. In addition, some sensitive electronic devices, such as digital clock radios and laptops, require a power source that provides a pure sine wave. Otherwise, they won't work properly. If you want to use your portable power plant for such gadgets on a regular basis, then you should opt for a power plant that produces a pure sine wave as opposed to a modified sine wave.
Size and weight
The purpose of a portable power station is to be useful anywhere and anytime. Although many portable power plants advertise themselves as portable, most are not suitable for carrying from one place to another. If you intend to use the portable power station only at home, you can opt for a larger and heavier machine.
However, if you want to travel with it, you should opt for lightweight devices such as the SUAOKI S270, which can be carried by hand over long distances. Also, some airlines will not let you fly with heavy aircraft.
Power sources
A portable power pack is useless when it has no charge. You need to make sure that your portable power pack gives you plenty of charging options. When you travel, you can then charge the device by any means available to you. Most modern portable power packs, such as the Goal Zero Yeti 400, can be charged in several ways.
You can use standard power outlets when charging the station at home. You can also use DC outlets when you are in your car. Some portable power stations also run on solar power. If you plan to opt for the latter option often, then you should invest in a separate solar panel.
Ease of use
The portable power plant you buy should be easy to use. You don't want to have to fiddle with buttons and consult manuals when you travel. Many portable power plants come with a display that serves as a battery indicator. This means that you will be able to keep the power supply charged before it runs out completely.
If you want to make things more convenient for yourself, you can get your hands on a portable power station that comes with a variety of connection options. You will have AC ports, DC ports, and even USB outlets at your disposal. You'll be able to get the job done no matter what device you have.
Warranty
Having a warranty on a product gives you a certain level of flexibility. However, you will notice that warranties on power plants do not extend for a very long period of time. The maximum warranty you can get for a portable power plant is 24 months. Some companies only offer a one-year warranty. The type of warranty you get with the unit should be able to cover the battery, as this is the most expensive part of the unit.
Additional features
If you want to get the most out of your portable power plant, you may want some additional features. They may not be essential to the main functions of the power supply, but they add to the experience. Flashlights, power meters, battery indicators, overheat protection systems, and surge protectors are all worthy additions.